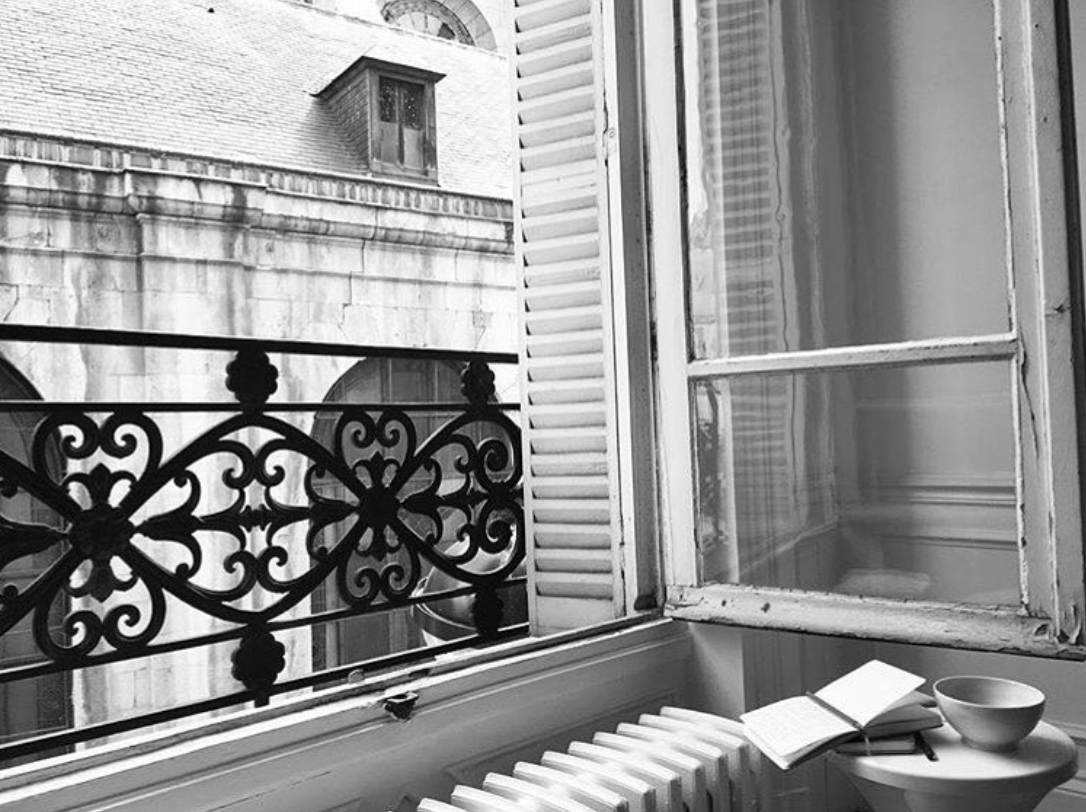 Paris is already an enchanted place. I don't need to tell you why this is the perfect place for my la vie enchantée retreat. You've seen me put everything into storage and give up my house to go travel the world with my 4x5 camera. Looking for and capturing the breath, heartbeat, dreams, wishes and desires on film. It all started in Paris.
This isn't your typical Photography retreat.
This is not just a photo tour of the city. We won't be going over technical skills and all lining up with our tripods at the usual tourist attractions.
That's not to say we won't go to some of them.... It just means that the focus is on deepening our experience of life, of ourselves, of our artistic expression and of Paris from the inside out.

This offering is for those of you ready to have your own version of an enchanted life. Not just for our days together in Paris... But bringing what you learn back with you and incorporating it into your daily life. This is a Full Tilt Sensory Experience. The Culture, The language, the food, the people, the architecture, the hidden places I've found during my visits to this inspiring city, the music, the art, the inspiration to create life as a work of art.
Details:
This Retreat is open for 10 participants.
We start with a welcome dinner and workshop overview at 5pm on Thursday, Oct. 4th. (I recommend HIGHLY that you fly in on Tuesday or Wednesday to get acclimated to the time change )
The loose schedule:
We gather every morning for espresso at my sexy apartment in Paris.
Future Writing and Reverse Engineering ( I will show you how I turned my life into this enchanted dream with these 2 specific tools I use and more. )
Daily Instruction on deepening your creative vision.
Connection with like minded creatives.
Expansive amounts of time everyday to go off on your own and explore the city, make your art and listen to the heartbeat of Paris.
Dinner is included every night as well as espresso and croissants when we gather in the morning.
Time away from your daily life to really focus on what it is you want with this moment in time you have of this life.
1 group online video call before the retreat and another 2 weeks after we return to help you continue to assimilate everything you've experienced and learned.
This is 3 FULL days of Immersion into your art making practice and process! ( **Plus the welcome dinner on Thursday before we dive in and the Breakfast gathering on Monday morning as we end! ) Permission to dive DEEP! All in the glorious and sexy city of Paris!
Accommodations:
I thought long and hard on this. I've experienced leading retreats where we all stay together and where we all stay where ever each of us wants to. I notice that more artwork and a facing of yourself is much more realized and actualized when you are on your own and not distracted by the group once we have our dinner and it's time to head home for the evening. You have time to make more work. journal. practice enchanted living with all of the things you wish to incorporate in your own daily rituals. ( I take several bubble baths per day when I'm in Paris... When I've taken workshops with other mentors I noticed that I created MUCH more work when I had a place alone to go to every night. So you have the option of a hotel or airbnb near me or you can all decide collectively ( or to pair up ) to go in on your own Airbnb if that suits you. You can come with your family and stay with them, or bring a friend who wants to enjoy Paris while you are with us during the day. I will connect you all before we go so you have time to find the right place to be for your personal and financial needs. I will help you with a list of recommended hotels and areas so you feel safe and supported no matter where you decide to stay.
International Travel:
I will go over everything you need to know about how to fly internationally so you're prepared with every single thing you could possibly imagine! I've traveled alone all year long and learned lessons from every single journey. I'll be sharing with you everything I know so you feel at ease about how to pack, what to expect, how to plan etc. I'll meet you live online in a "zoom" conference so we can all talk about this at length. ( It's easy to use. I'll share the details after you sign up )
Pricing: $2750.00 for all of the enchantment above.
Paris :: Future Writing:: Private Mentoring :: Group Video Calls :: Time to Create your art and your enchanted life while living one :: Love. always love... and did I happen to mention PARIS? This place held me when I first lifted off into my own version of enchantment. I want the same for you. Romance yourself and your artwork with this magical city with us!
Email me with any questions at support@catherinejust.com
If you want to join us secure your spot below!
You can pay in full or make a small payment over 6 months.
See you in Paris!
xo
*c
Cancellation/Refunds: Please be thoughtful when you sign up for this workshop as I do not give refunds unless the worskhop is cancelled due to acts of God that are out of my hands. Any other reason - the money goes into the "kitty" for you. You can use that money for another course / towards a photo session / etc within a calendar year.